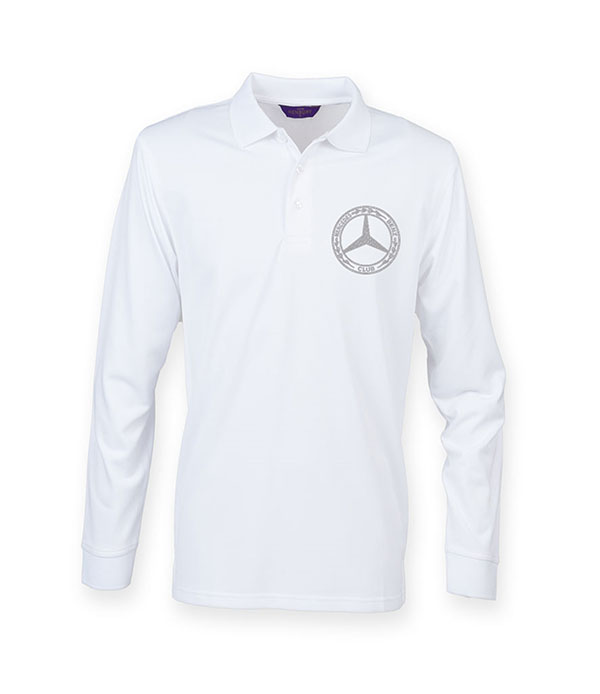 Mercedes-Benz Club Coolplus Pique Mens Golf Polo Shirt
Product Information
Mercedes-Benz Club Coolplus Pique Mens Golf Polo Shirt
Our Long sleeve Mercedes-Benz Club Coolplus Pique Mens Golf Polo Shirt is available in a variety of colours. Designed to help you keep cool on the links our Coolplus® material helps to keep you stay frosty when putting and drier by drawing moisture away from the skin enabling a more comfortable swing.
With side vents and buttons to match the micro pique mens golf polo shirt is a high quality addition to your golf apparel. Designed to help you win whilst looking stylish the polo is finished with the Mercedes-Benz Club Logo in silver on the left chest. Don't miss out on these high performance golf polo shirts.
Mercedes-Benz Club Coolplus Pique Mens Golf Polo Shirt Key Features:
Coolplus® draws moisture away from skin to keep cooler and drier.
100% polyester micro pique.
Flat knit collar and cuffs.
Taped neck.
Locker patch.
Three matching button placket.
Side vents.
Twin needle stitching.
Weight: 180 gsm
Mercedes-Benz Club Golf Clothing Range
Discover Our Incredible Range Of Golf Clothing and accessories. With a wide range of top golfing apparel you'll be able to enjoy the scenic golf course and style with the Mercedes-Benz golfing merchandise. Eliminate distractions and go for your best round this summer with technical fabrics and stylish designs.
You might be the perfect putter or a swing sultan but we all know the way you feel and look can have a huge effect on the quality of your golf game. With our Club range it's never been easier to bring some genuine style to the greens. Make sure you win the nearest the pin and distinguish yourself from your competitors. Always look better than just par!!
Clean, Classic and Classy our groundbreaking range of high performance golf clothing for both men and women comes at an affordable price. We have top quality Golf Polo shirts and Jumpers along with golf towels and umbrellas.
With our Mercedes-Benz Golf Range we'll help you play to win!!
Previous Articles of Interest
New 2020-21 range of mercedes benz club ladies clothing
Mercedes Benz Merchandise Spring 2021
Mercedes-Benz Club Coolplus Pique Mens Golf Polo Shirt
About the Mercedes-Benz Club Shop
The Mercedes-Benz Club Shop is part of the Mercedes-Benz Official UK Members Club
The Mercedes-Benz Store offers a range of club Mercedes-Benz apparel and merchandise branded with the iconic Mercedes-Benz Official UK Members Club Logo.
As the first Mercedes Benz car club, and as such the longest standing in the world, the quality of the merchandise that is available from the Mercedes Benz UK Club Shop is both innovative and of the highest quality.
We choose only the best items for our store with products from active sportswear to the classic club jumpers and as such what you would expect from the oldest car manufacturer whose innovation can be found throughout history.
At the Mercedes-Benz Club Shop we know how important it is for our members to be properly equipped for the outdoors. Our clothing range uses high technology fabrics coupled with quality finishing to ensure that our products are both functional and long lasting.
There are 100's of new products available to purchase with the iconic Mercedes Club logo, including a new range of Mercedes women's clothing and accessories. The Mercedes Women's Clothing, like the mens clothing, offers innovative design coupled with function and comfort.
With influences from the hugely successful Mercedes-AMG Petronas Formula One (F1) Team our store offers a mix of clothing and accessories including Mercedes Jackets, Mercedes polo shirts and Mercedes T shirts. We also have the a mix of classic and new items in the form of Mercedes Badges, Mercedes travel mugs, Mercedes face masks and Mercedes Wooly hats.
If you happy with the service we supply and would like to leave us a review please visit our google business listing by clicking here.
If for some reason you aren't happy with the service we have supplied please contact us here and we will do everything we can to resolve any issues you have had.
Mercedes-Benz Club Coolplus Pique Mens Golf Polo Shirt
"Your service and efficiency seem to go beyond what I would expect"
I recently ordered a ladies Mercedes fleece from yourselves. I had a few questions re- sizing etc to ask and was impressed to get a quick and helpful response from Donna who worked there. Donna said it would need to be ordered and I wanted to take it away on holiday so she put in an urgent request so I got it quickly. The fleece arrived sooner than I expected and was a perfect fit and extremely good quality.
I am writing to you as the service and efficiency seem to go beyond what I would expect and I most certainly would use your company again in the future for the quality and service received.
"Excellent customer service from the start of our transaction to the end"
Excellent customer service from the start of our transaction to the end. The body warmer I originally ordered was embroidered and shipped with a very quick turn around so that my dad would receive it in time for his birthday. Unfortunately the garment didn't fit him properly but exchanging the body warmer was no hassle whatsoever.
We were sent over the available body warmer options for my dad to choose from but decided to opt for a v-neck jumper instead, which was no problem at all. We posted back the body warmer and the jumper was sent to us as soon as it had been embroidered.
This is Dad's 3rd jumper (in different colours) and I'm sure he will be returning for more items! We wouldn't hesitate to order again. Many thanks for all your help!

"I can't thank you enough for helping make him a very happy young man"
What an excellent and considerate service. The jacket was perfect and when I mentioned that the order was for my nephew's 30th birthday, it was so kind of you to pop in a few extras for him. He has special needs, yet has always loved Mercedes, so I can't thank you enough for helping make him a very happy young man.